Did you forget something in your rush to leave?
Never worry. Give us a call at your destination and we will be happy to pick up the items from the pet supply store for a small additional fee.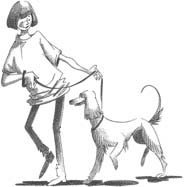 Safety is critical
Please provide us with your prefered Vetinarian. If this is not provided we will use our own Vetinarian service in case of emergencies. Also, please make sure that you have secured all outside gates and make sure all the doors and windows are locked. Never leave your pet in a garage..there are too many hazardous conditions that lurk in this environment. Do not hide keys for your sitter outside. Please arrange to meet your sitter before you leave so that you can give he or she your keys in person.
Fees
Our minimum fees start at $13.00 per visit/1 pet

Additional pets....$3.00 per visit additional

Plant watering.....$4.00 per application

Blind or Light rotation....$2.00 per visit

Additional time with your pet(over our 30 minutes)...$10.00/per additional 30 minutes