Doesn't your pet deserve some fun while your busy at work or on vacation? Just like yourself your companion at home doesn't like being hauled off to an unpleasant environment while you're on vacation or an extended stay away from home. I don't think I would enjoy the confines of a 2 x 4 cage. Well, we have the solution. Let your pet stay at home and have professional home care and the daily attention that he needs. We will visit and care for your pets on a schedule that you can live with and your pet will enjoy. Leave the worry to us and rest assured your pet will be in the best of care and will greet you with a tail wag when you get back home.......saying...I had the best sitter while you're were gone.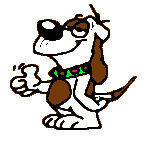 Fred gives us a thumbs up.
What's New?
We've added a new county to our list. We are now sitting in Fulton county. Give us a call. I think you will be very pleased with our service.

We have also added a classified section to our pages. We know there are many pets out there without homes and we want to help them find one. If you would like to post to this page please feel free to do so. Please help out or friends to find them a good home.

***Gwinnett Humane Society Purchases land to build a state of the art facility.